Timeless Smile with Invisalign at Castaneda Orthodontics!
Why Consider Invisalign?
There's never been a better time to straighten your teeth with the most advanced clear aligner in the world. Our office is proud to be a certified provider of Invisalign clear aligners, which give you a clear, convenient, and comfortable option to achieve the smile you've always wanted.
Virtually Invisible: Most people won't even know you're going through treatment because Invisalign aligners are invisible, especially compared to traditional braces.

Aligners are removable, making it easy to enjoy the foods you love without worrying about breaking or bending your brackets and wires. You can also remove your Invisalign aligners to brush and floss regularly.

Convenient – Invisalign treatment is ideal for your busy schedule since you only need to visit our office every six weeks.

Effective – Invisalign clear aligners can treat a wide range of teeth-straightening conditions, including crossbites, crowding, open bites, gapped teeth, overbites, and underbites.
Virtually Invisible: Most people won't even know you're going through treatment because Invisalign aligners are invisible, especially compared to traditional braces.
Comfortable – Invisalign clear aligner trays are not only smooth and comfortable to wear, but they're also removable. That means you can continue doing everything you normally would, from brushing and flossing to eating whatever you like.
INVISALIGN SmileView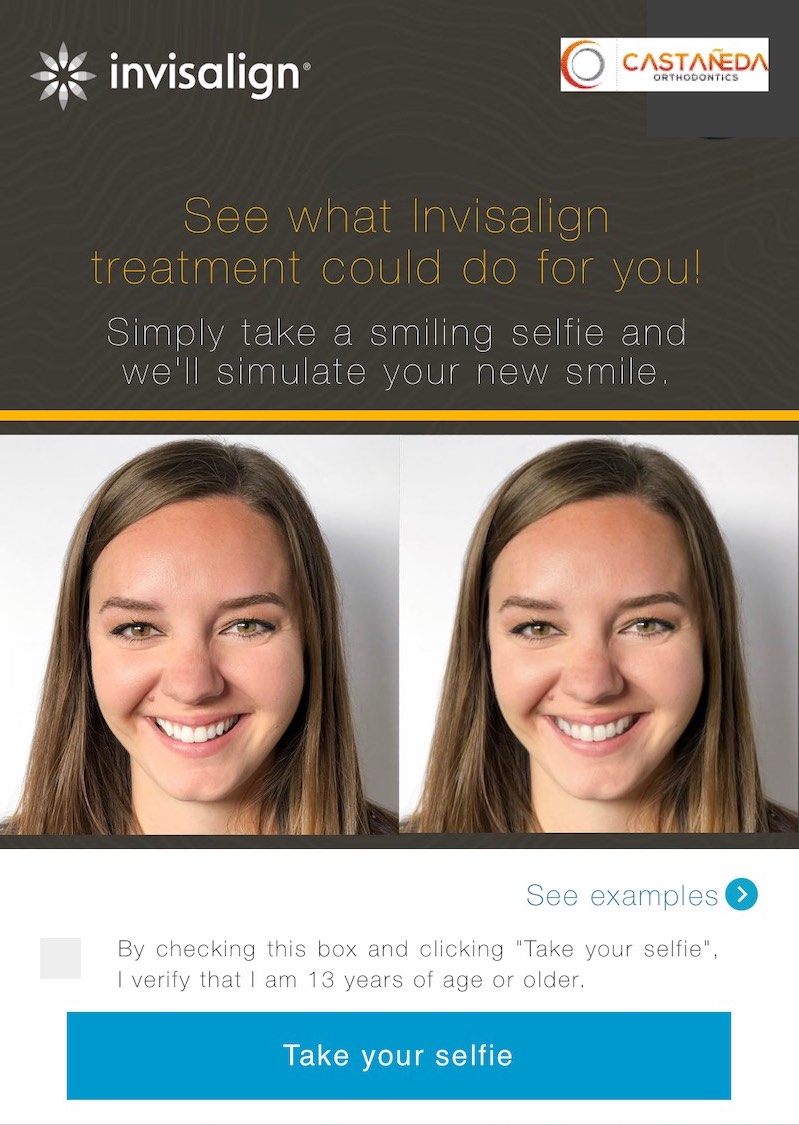 See your new Invisalign Smile in Seconds

Scan the QR code with your phone's camera, and snap your selfie to see your smile transformation!
Invisalign Treatment
Orthodontic treatment is more than just straightening teeth. As the teeth move, the bite itself adjusts. If orthodontic treatment is not done correctly, the bite will worsen, leading to tooth loss, damage to the periodontal structures, and even jaw joint damage. Receiving proper treatment the first time can save the patient time and money, irreversible damage to their teeth, and the need to repeat the treatment later. Orthodontists are trained to design treatments that achieve multiple goals, including aesthetics, bite and jaw joint function, periodontal health, and oral health. Dr. Castaneda is giving patients Experience + Education + Training +Technology = More Efficiency and Faster Treatment.
To learn more and determine if you are a candidate or your child is a candidate for Invisalign Aligners, subscribe to our monthly educational post or make an appointment to schedule your complimentary evaluation.
INVISALIGN TEETH ALIGNERS
Invisalign Treatment Process
Your First Consultation
At your initial consultation, we will discuss your orthodontic needs, compare treatment options, discuss treatment times, and evaluate whether Invisalign treatment is proper for you.
Your Custom Treatment Plan
We will use a scanner such as the iTero® digital scanning system to create fast, precise 3D digital images of your teeth. Then we will map out a precise treatment plan, including the exact movements of your teeth and how long your treatment will finally, you'll see how your teeth will move and preview your new smile.
Your Invisalign Clear Aligners
You will receive your custom-made aligners sets made of Invisalign's proprietary SmartTrack® material.
Wear your Invisalign clear aligners 20 to 22 hours a day for the best results, and take them out only to eat, brush, and floss.
Your Progress
As you wear each set of aligners, your teeth will gently and gradually shift into place. Therefore, we may recommend that you wear a new set of aligners every week and schedule checkups every six weeks.
Taking Care of Your New Smile
When your treatment is complete, ask us about a Vivera® retainer. Vivera retainers are custom-made using the same state-of-the-art technology as Invisalign clear aligners for an additional fee.
You are Your Best Investment!
COST OF INVISALIGN
Many factors determine the cost of your treatment: the extensiveness of the orthodontic issues that need correction, the length of your treatment plan, and the specific treatment details prescribed by Dr. Castaneda.
We strive to make Invisalign affordable to everyone. As a result, you can get a beautiful, healthy, straight smile for as low as your monthly cell phone bill.
Invisalign Payment Options
Low and no down payment options are available
Financed interest-free extended monthly payments to fit your budget
Various payment arrangements to coincide with your Flex Plan needs
Most major credit cards are accepted